When your thoughts are full of clutter and chaos, it's time to do a brain dump to invite creativity into your existing ideas and get rid of the bad ones. This segment will cover: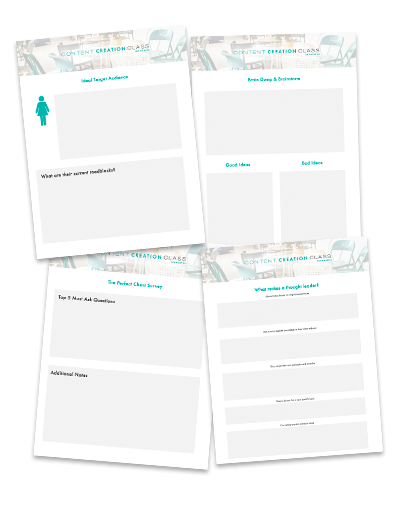 Brain dump & brainstorm
You will be asked a series of questions to get your creativity going and write down all of your ideas, ambitions and goals.
Identify your who & why
You will be given an ideal reader avatar worksheet to discover who your audience is, how you can best serve them, and why you're the best expert for them.
Understanding Your Niche
You will learn how to break down your niche into an extremely specific topic so you can be known as the BEST in your field.
Elimination Process
We will eliminate any poor, time-wasting ideas and build on your best, profitable ideas.
Removing Roadblocks
You will have the ability to understand any limiting mindsets and mental roadblocks that makes your audience feel stuck and unprepared to work with you.
The Perfect Questionnaire™
You will learn to create the perfect survey to get testimonials BEFORE you even come up with products. I'll teach you how to generate paid content based on the survey responses.